This vegetarian chickpea tikka masala tastes just like takeout… or better! Super rich and perfectly spicy, this vegetarian version of the Indian classic dish is filling but meatless. Saucy and perfect over rice, this recipe uses a simple technique to take your tikka masala to restaurant-level! Easy to make vegan.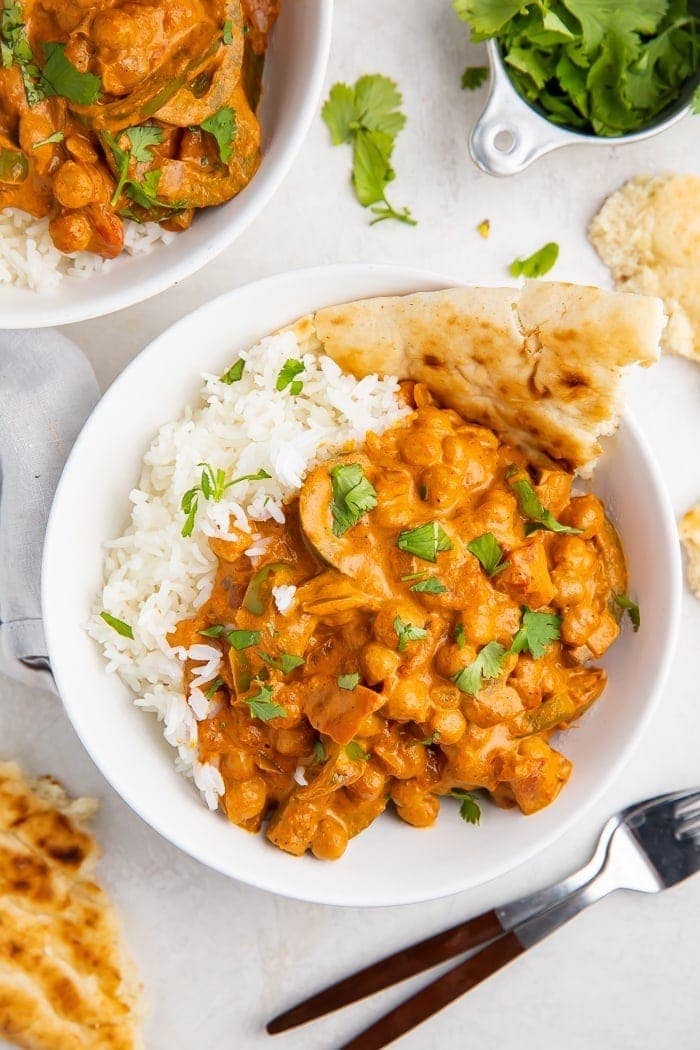 Why This Recipe Is So Good
Indian food is absolutely my #1 comfort food, especially warm, spicy tikka masala. This recipe is restaurant quality at home and is perfectly seasoned, amazingly flavorful, and vegetarian!
This vegetarian version of tikka masala swaps out the chicken for chickpeas, which are just as filling and so easy to cook. Even committed carnivores will go crazy for this recipe.
We used a couple of easy tricks and ingredients to make this recipe taste just like it came from your fave Indian restaurant. You won't believe how delicious it is!
How To Make Vegetarian Tikka Masala
The full recipe is below, but here you'll find all the steps for making this recipe perfectly the first and 100th time, along with useful tips and info!
Heat the butter over medium heat. Add the onion and cook until it is slightly softened.
Add the ginger-garlic paste and cook until nicely browned about 5 minutes. Add 1 tablespoon of water as needed while cooking so that the paste doesn't burn. Add all of the spices and cook for 1 minute.
Add the tomato sauce, tomatoes, bell pepper, chickpeas, and salt. Mix everything well and then bring to a simmer over medium heat. Let the sauce simmer until it thickens slightly and turns a darker color, usually about 10 minutes. Stir occasionally. Reduce the heat as needed so that the sauce remains at a simmer, not a boil.
Stir in the cream, lemon, and fenugreek and reduce the heat slightly. Simmer for 5 more minutes, then add more salt to taste. Serve over rice or cauliflower rice with naan. Garnish with cilantro if desired.
Top Tips For Making
To make chickpea tikka masala vegan, swap out the butter for vegan butter or a neutral oil (like vegetable or avocado) and use 1 cup plant-based half and half instead of the dairy version. We love Ripple half and half, but you can also use pure coconut cream (the solid part of a can of coconut milk) if you prefer.
So What's The Secret To Great Tikka Masala?
The key to restaurant quality taste is caramelization.
First, we caramelize the onions. Don't skip it! Caramelizing the tomato sauce and tomatoes in step 4 is equally as important. This takes the tomato-y edge off and takes your tikka masala from "homemade" tasting to professional quality. Trust me, you will be amazed if you follow both steps!
What is Ginger Garlic Paste, and Why Do We Love It?
Garlic ginger paste is a must if you cook Indian food. You can buy it premade, but it's so easy to make, and it will last up to 6 months! Here's how to make ginger garlic paste at home:
To a skillet over medium heat, add 1 deseeded jalapeno, 1 1/2 tablespoons grated fresh ginger, and 5 cloves of garlic, then reduce the heat. Cook, stirring occasionally until the mixture turns a nice medium brown, almost toffee colored. This will take about 20 minutes. Add a little water here and there if the mixture is sticking.
Keep it in the fridge for 2-3 weeks, or freeze it for it to last 6 months.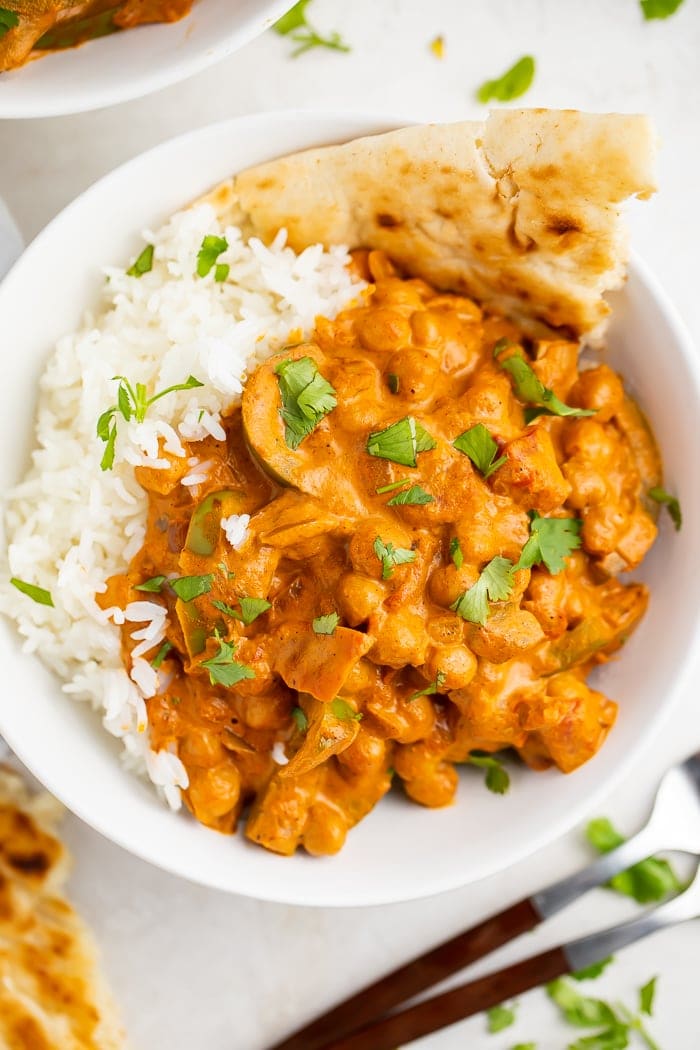 Vegetarian Chickpea Tikka Masala
This vegetarian tikka masala is perfectly seasoned, spicy, and restaurant quality.Course Main Course Cuisine Indian Keyword garbanzo beans, ginger garlic paste, vegan option Prep Time 25 minutes Cook Time 10 minutes Servings servings Calories 423 kcal Author Cheryl Malik
Ingredients
2 (15-ounce) cans chickpeas drained
3 tablespoons butter
1 onion medium, chopped
1 1/2 tablespoon ginger garlic paste
1 (8-ounce) can tomato sauce
1 cup half and half
1/4 teaspoon cayenne
1 lemon juiced juiced
1 tablespoon Garam Masala
1 (14.5-ounce) can diced tomatoes undrained
1 bell pepper sliced
1 teaspoon paprika
1 1/2 teaspoon salt
2 tablespoons fenugreek leaves optional
4 tablespoons cilantro
cooked rice or cauliflower rice to serve