This Mexican street corn salad is super flavorful and so easy! This salad is loaded with all the flavors of traditional elote like sweet corn, salty cotija cheese, creamy mayo, and tangy lime juice. It's the perfect side dish for all your parties or BBQs!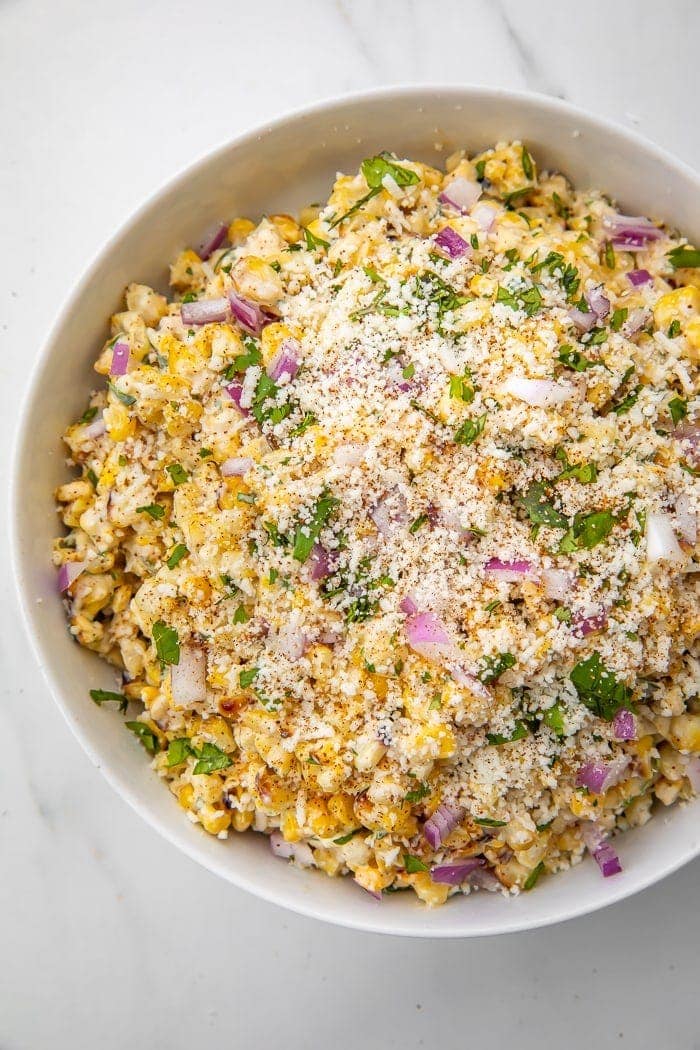 Elote is one of my absolute favorite ways to eat corn, and Mexican street corn salad (also called esquites) is another perfectly easy way to get my cheesy, mayonnaise-y, addictively seasoned fix. This recipe is absolutely perfect for throwing together for picnics and parties, but is easy enough for weekdays dinners, too.
What Makes This Recipe So Good
Corn – Fresh corn, cut right off of the cob. You can use boiled or canned corn, but rich, sweet, perfectly grilled corn is the absolute best.
Butter – After a recommendation from some Mexican friends, I've started using butter on my elote, and it helps make this salad super rich. And what could be better than buttery corn?
Mayonnaise – Good quality mayo really pulls this salad together. Mayonnaise is used in Mexican street corn to coat each ear of corn, and it helps make this salad creamy and rich.
Cotija – A salty, hard Mexican cheese, crumbled cotija is another must for perfect elote. If you absolutely can't find it, check out the top tips.
Lime juice – Fresh lime juice is a must for delicious Mexican food. It adds tangy sweetness to the salad and pulls everything together.
How To Make Mexican Street Corn Salad
Preheat your broiler or your grill for medium heat.closeThis video file cannot be played.(Error Code: 102630)
Place corn perpendicular to grill or oven grates and grill or broil, turning to evenly cook and char in spots. This should take about 10 minutes.
Remove and let cool slightly.
Cut kernels from corn cobs and place in a medium bowl.
Whisk together mayonnaise, butter, lime juice, cotija, cilantro, and salt in a small bowl.
Scrape the mixture into the bowl of corn. Stir everything together well, but gently.
Top with more cotija, cilantro, red onion, and a sprinkle of chili powder or Tajín.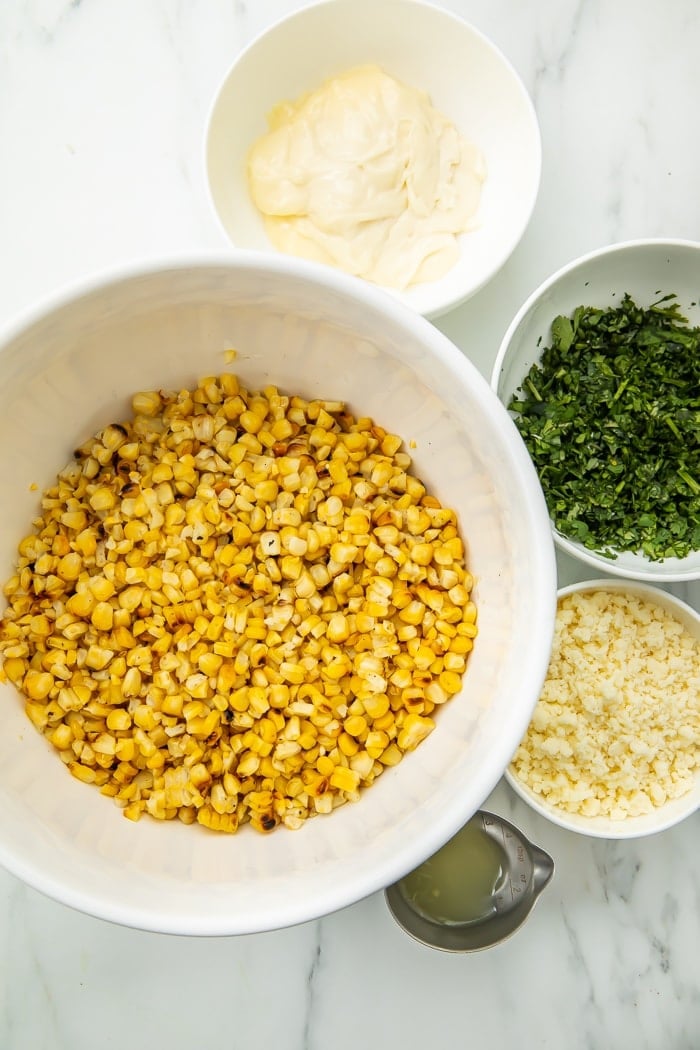 Top Tips For Making
Grilled, lightly charred corn is perfect for this salad, but you can boil corn if you prefer. Check out my post on how to boil corn (plus a really easy way to cut the kernels off the cob).
If fresh corn isn't available, you can use canned corn. There are about two ears of corn in each 15-ounce can, so use 4 cans for this recipe. Drain it well and add the corn and 2 cups water to a saucepan over medium heat. Let it simmer until the liquid is almost totally gone, about 5-10 minutes.
Make sure you use a good quality mayo without a funky or strong taste. I like Sprout's Organic Mayo or Hellmann's. Duke's is another good option.
If you can't find cotija, you can use fresh parmesan or even feta cheese at a pinch.
How much juice is in one lime? The answer is pretty simple!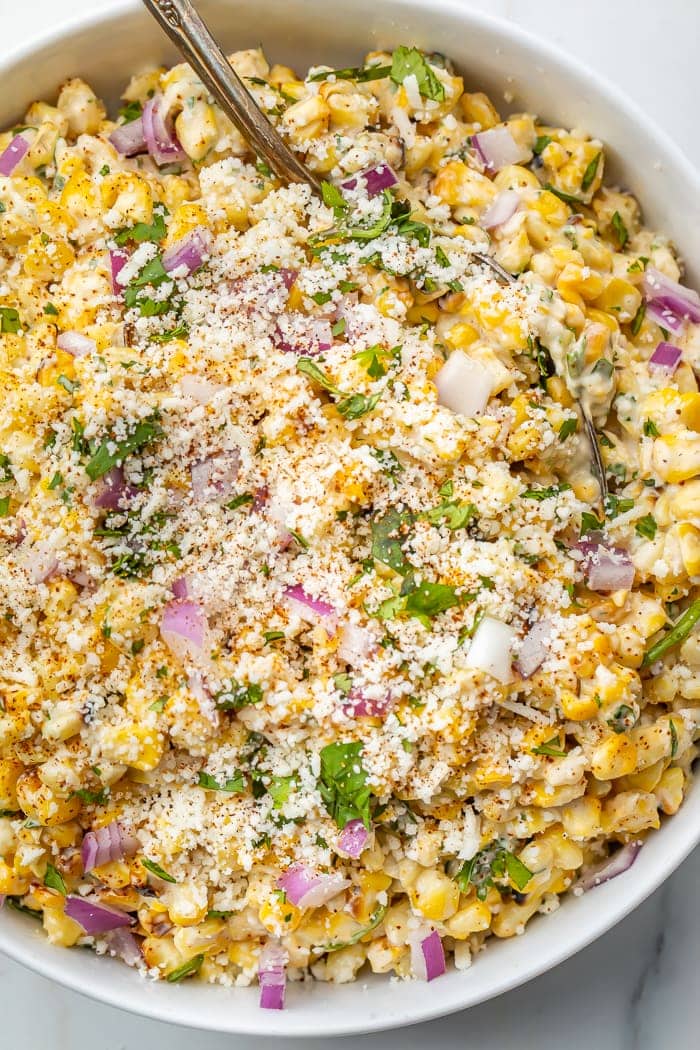 Mexican Street Corn Salad
This salad is loaded with all the flavors of traditional elote like sweet corn, salty cotija cheese, creamy mayo, and tangy lime juice.Course Salad Cuisine Mexican Keyword elote, mexican side dish Prep Time 10 minutes Cook Time 10 minutes Total Time 20 minutes Servings servings Calories 251 kcal Author Cheryl Malik
Ingredients
8 ears of corn husked
1/4 cup butter melted
6-8 tablespoons mayonnaise
2-3 tablespoons fresh lime juice
1 cup cotija crumbled, plus more for serving
3 tablespoons fresh cilantro chopped, plus more for serving
salt
black pepper
1/2 teaspoon chili powder for garnish
1/2 teaspoon garlic powder for garnish
red onion minced, for garnish