Is there anything more refreshing than a Caprese salad? This tomato, fresh mozzarella, and fresh basil dish becomes a vegetarian sandwich with a few extra twists for more flavor than ever. Made either cold or with the fresh mozzarella melted, we are obsessed with this simple meatless sandwich for spring and summer!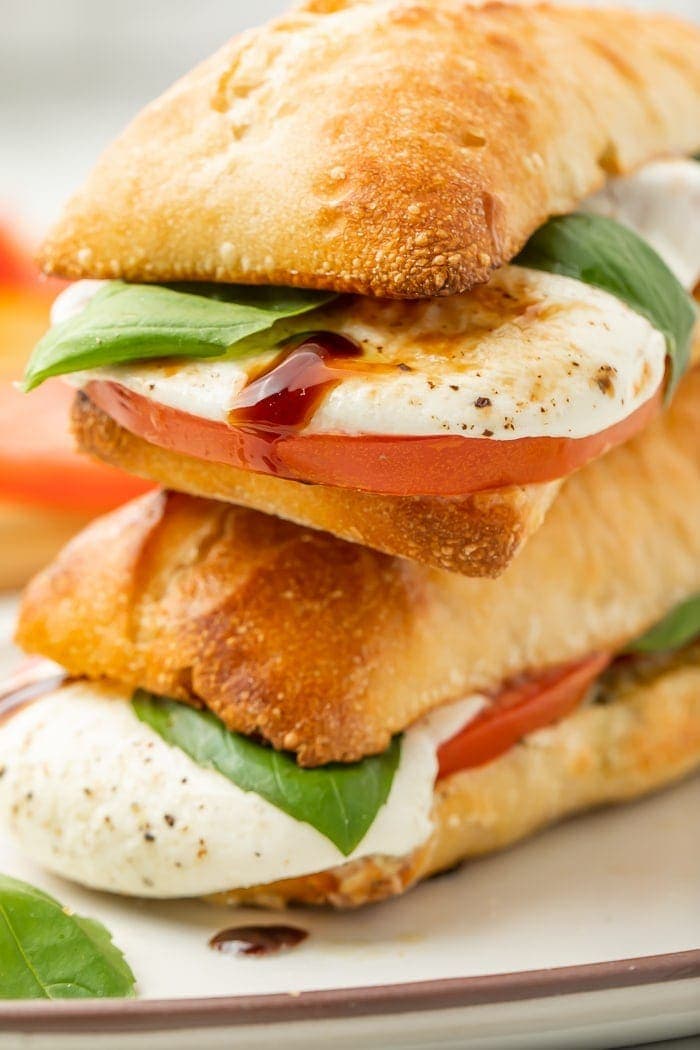 I've been eating Caprese salad ever since I went to Italy for the first time over 10 years ago. To this day, I still HAVE to order it if I see it on the menu. I probably eat one plate a day when I go to Italy! This easy Caprese sandwich is my at-home way of getting Caprese in as a main course.
And what's not to love about this sandwich? It's absolute perfection with a crusty, chewy baguette layered with thick slices of creamy mozzarella and fresh tomatoes, garlicky pesto, and a drizzle of sweet, tangy balsamic glaze. I'm getting hungry and dreaming of Italy now…
What Make This Recipe So Good
Baguette – This long, golden brown bread with a crispy crust and chewy inside is the perfect texture for holding the pesto and olive oil without getting soggy. No plain white bread for this sandwich!
Tomato – Fragrant tomatoes that are ripe and juicy are a must for a Caprese salad and for this sandwich. Make sure you are buying the best, plumpest tomatoes you can find for a burst of sweet flavor.
Fresh mozzarella – Rich, creamy mozzarella gives this sandwich its classic Caprese taste.
Basil leaves – The main ingredient in pesto, fresh basil leaves have a slightly peppery and minty flavor.
Pesto – Made with basil, pine nuts, and garlic, pesto adds extra Italian flavor to this sandwich. Fresh, nutty, and fragrant, homemade pesto is preferable, but store-bought will work, too.
Balsamic glaze – Sweet and tangy, you absolutely do not want to skip the balsamic glaze. The sweetness is what helps make this sandwich taste like real Caprese, and it perfectly complements the salty mozzarella, juicy tomato, and herbal basil and pesto.